Ibanez SR1346B DWF Premium Bass Guitar 6 Strings with Gig Bag
For 30 years the SR has given bass players a modern alternative. With its continued popularity, Ibanez is constantly endeavoring to answer the wider needs of a variety of players, at a variety of budgets. But no matter what the specs, the heart is the same-SR continues to excite with its smooth, fast neck, lightweight body, and perfectly matched electronics.
Ibanez Premium lines deliver high-end performance and road warrior dependability at middle-of-the-road pricing. Manufactured with select materials, dedicated skills of craftsmanship and care in details, and high-profile electronics and hardware, Ibanez Premium guitars and basses show you possibilities you could never have imagined and offer you "Performance Beyond Expectation."
SPEC
neck type Atlas-6 5pc Panga Panga/Purpleheart neck w/KTS™ TITANIUM rods
top/back/body Ash/Panga panga top African Mahogany body
fretboard  Bound Panga Panga fretboard Abalone oval inlay
fret  Medium frets Premium fret edge treatment
number of frets 24
bridge MR5S bridge
string space 16.5mm
neck pickup  Nordstrand™ Big Single neck pickupPassive
bridge pickup  Nordstrand™ Big Single bridge pickupPassive
equaliser  Ibanez Custom Electronics 3-band EQ w/ EQ bypass switch (passive tone control on treble pot) & 3-way Mid frequency switch
factory tuning  1C/2G/3D/4A/5E/5B
strings  D'Addario® EXL165 + .032/.130
string gauge  .032/.045/.065/.085/.105/.130
nut  Graph Tech® BLACK TUSQ XL® nut
hardware color  Black
NECK DIMENSIONS
Scale :    864mm/34″
a : Width    54mm at NUT
b : Width    83mm at 24F
c : Thickness    19.5mm at 1F
d : Thickness    21.5mm at 12F
Radius :    400mmR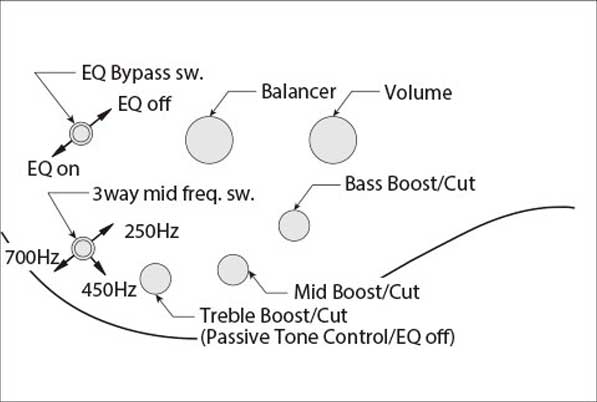 CONTROLS

FREQUENCY RESPONSE
OTHERS
Gig bag included
Gotoh® machine heads
Features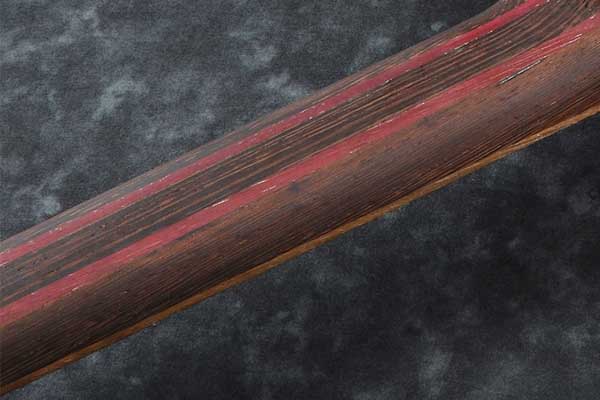 Atlas 5pc Panga Panga /Purpleheart neck
The Atlas 5pc Panga Panga/Purpleheart neck provides tonal clarity, superior note attack and its slim grip shape permits superior playability.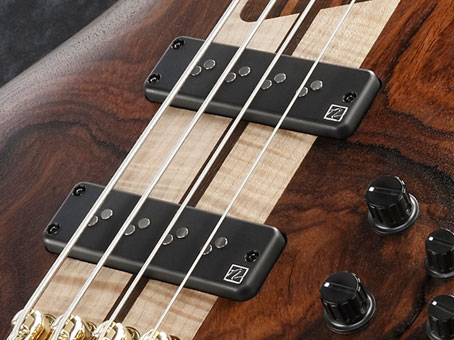 Nordstrand Pickups
Nordstrand™ "Big Single" crams as meaty a single coil as can fit in a soapbar style pickup, producing a full-bodied, powerful, aggressive tonal texture, while still retaining the clarity that's characteristic of single coil pickups.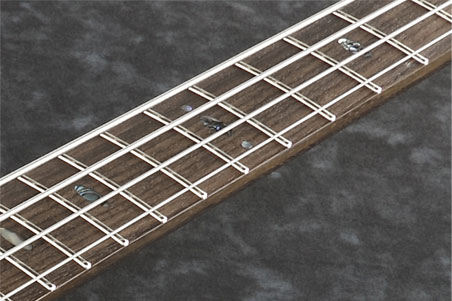 Premium Fret Edge Treatment
Premium Fret Edge Treatment offer super smooth,comfortable performance.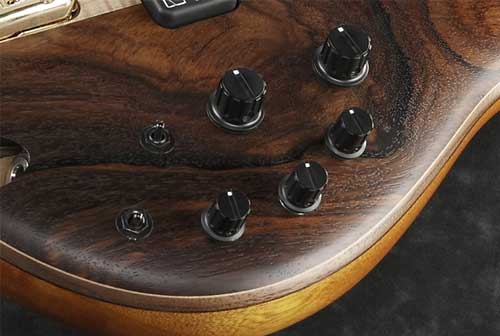 Ibanez Custom Electronics 3-band EQ w/EQ bypass switch & Mid frequency switch
Ibanez Custom Electronics 3-band EQ is our latest refinement on the concept of simple, straightforward, no-nonsense EQ control. The Boost and Cut for the Mid Control are each centered on slightly different frequencies, an innovation that delivers a preset range of the most favorable bass tones.
Precision tonal control, including a switch to choose passive-only operation. When the EQ bypasses activated, the treble tone control knob becomes the global tone control for the passive circuit.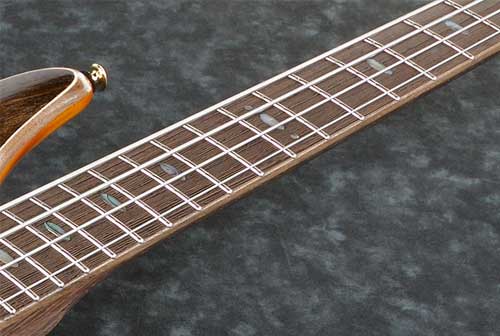 Panga Panga fretboard
Panga Panga features a beautiful wood grain which produces a tight low and mid range with a sharp attack on high end.


MR5S bridge
The saddles can be adjusted +/-1.5mm, to answer to the bassist's detailed demands and to help finding out the best string spacing for many playstyles.