Sire Marcus Miller V7 Swamp Ash – NT 4 String Bass Guitar
Sire Bass Guitar V7 The perfection of Jazz Bass sound with Marcus miller
Specification V7
Body Material  : Swamp Ash /  North American Alder
Body Shape : New Marcus Miller Jazz Type
Body Color : Alder Body – 5 TS, 4 AWH, 4 BK, 4 TS | Ash Body   –  4 NT, 4 TS, 4 WB, 5 NT
Neck Material : 1 Piece Hardmaple
Neck Shape : C-Shape
Scale : 34"
Fingerboard : Hardmaple(Swamp Ash ) / Rosewood(Alder)
Fingerboard Radius : 7'25"
Frets : Medium Small, 20 Frets
String Nut : 4string : Natural Bone 38mm width / 5string Natural Bone 46mm width
Binding : 1 ply Ivory
Inlay : WH Pearloid Block
Neck Joint : 4 Bolt Steel Square Plate
Pickups : Marcus super Jazz
Electronics : Marcus Heritage- 3 with Middle Frequency Control
Controls : Volume / Tone (Dual Pot) | Pickup Blender | Treble | Middle / Middle Frequency (Dual Pot) | Bass, Mini Toggle (Active / Passive )
knob : Jazz Type Black Plastic
Bridge : Heavy Mass Standard
Tuning Gear : Premium Open-Gear
Hardware Finish : Chrome
Pickgaurd : Ivory Pearl(Swamp Ash)  /   Tortoise(Alder)
Features of the V7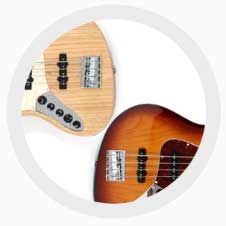 The wood choice for the body: premium swamp ash tone wood / North American alder.
It is built with Swamp ash / North American Alder which is a high quality tone wood that is not common in this price range bass.
High quality premium Jazz bass pickups made with US-made Heavy Formvar coil.
The pickups have been upgraded and made with Fiber Bobbin and Alnico 5 magnet, and US manufactured heavy formvar wires for that rich and strong Jazz bass sound.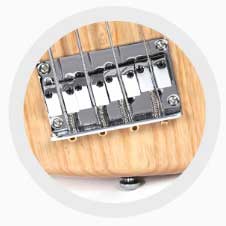 Built with the new Marcus Miller's heavy mass bridge. This bridge has been specially design and manufactured at the request of Marcus Miller.
By adding a heavy mass saddle to the traditional jazz bass bridge, more rich and punchy tone is generated.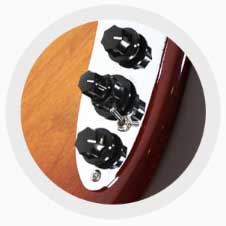 The top quality new Marcus Miller 3band eq / preamp system.
SIRE's 3-band EQ preamp is a new development for the Marcus Miller series bass in order to meet the needs of Marcus Miller's versatility and to cover various styles of music.
Living legend and His Bass
Marcus Miller and SIRE wants to see everyone enjoying and playing music.
To make this happen, Marcus Miller and SIRE have been on a mission for past several years
to build the best quality bass at a price that is unheard of and make it available to everyone.
The result is a new line of Marcus Miller bass models that are awesome sounding,
fantastic looking, and high quality but extraordinarily low priced.
We are happy that SIRE Marcus Miller basses are now available
and anticipate more people to play and enjoy music.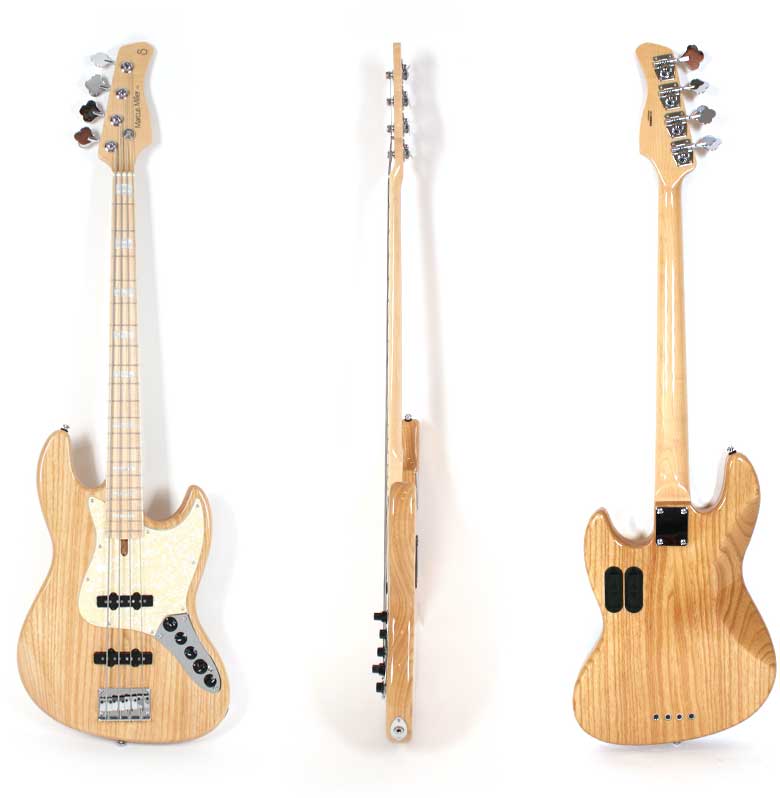 CORE TECHNOLOGY FOR GOOD SOUND
MARCUS HERITAGE-3
SIRE preamp is a perfect example that represents our technology and philosophy integrated into our instruments. With multiple tone controls, you can have total command in finding and getting the tone you want. The use of 18v battery enables the player to attain unaltered natural sound with strong and powerful output. With 3 band EQ, the player can have versatility in sound that can be suited for all occasions of music sessions. All models come with option for active and passive setting. Even in the passive mode, volume, tone, pickup balancer is fully functional, giving the player more controls for the tone in any mode.

All models also come with sweepable midrange control option that Marcus Miller advocates as a must have option. The middle frequency control knob allows the player to set sound frequency anywhere between 200Hz~1kHz. This option will be very handy in finding the desired sound.
PICK-UP SET
Marcus Miller Premium Jazz Bass pickup set is an upgraded pickup version made with US fomvar coil in order to reproduce the traditional vintage jazz bass sound. This pickup is made with fiber bobbin and alnico 5 magnets and also heavy formvar magnet wire that is also made in US. Marcus Miller Premium Jazz Bass pickup sets offer players to experience a rich and strong original vintage jazz bass tone.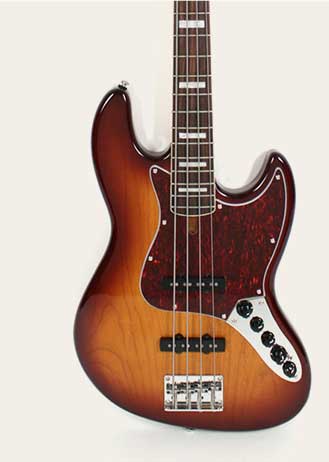 JAZZ BASS TYPE
Jazz bass type is the industry standard bass model with its signature vintage sound.This is an all around bass that is suitable for fingering, slap and all techniques and style of playing.With both classic and modern feel and design, this new bass can produce the desired sound for any genres of music from soft to strong metal grunge music.
BODY MATERIAL – SWAMP ASH/NORTH AMERICAN ALDER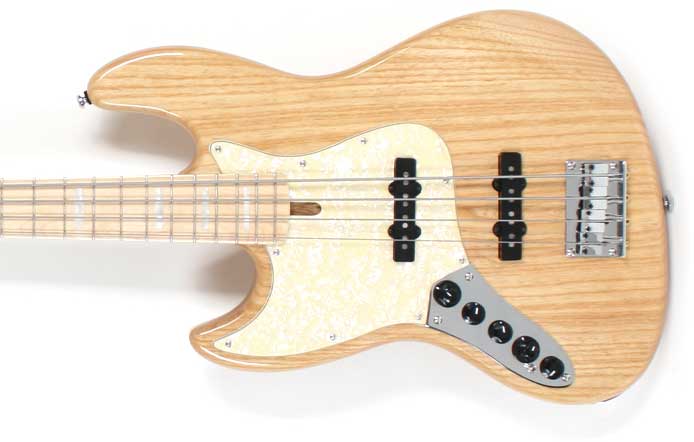 Swamp Ash
Premium swamp ash tone wood is usually found in higher priced instruments. Swamp ash tone wood is known to produce a well balanced tone. It is highly resonant and offers a nice balance of pleasant highs, firm lows, and a slightly scooped midrange which is great for slap playing. The characteristics of this wood enable players to emulate Marcus Miller's tone a step further.
 North American Alder
A popular choice for most bass guitars is the North American Alder. Other basses at this price range commonly use Basswood or Agathis tone wood but Sire Guitars chooses the traditional North American Alder which is known for its strong clear full-bodied sound, with beefy mids and excellent lows that is perfect for the traditional jazz bass sound.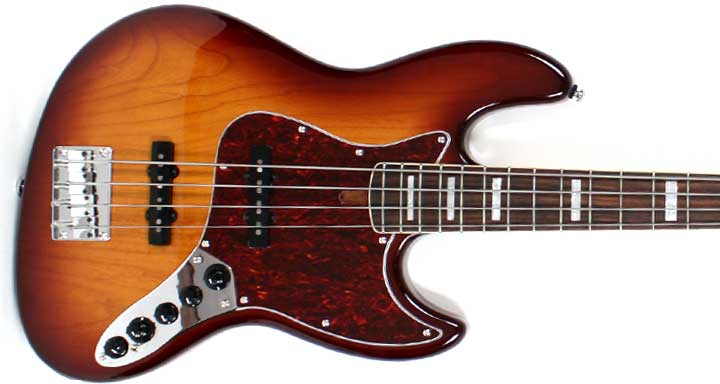 STABLE AND ACCURATE
SOUND WAVE TRANSFER
Marcus Miller SIRE V7 bass is equipped with newly designed Marcus Miller SIRE Bridge which is specially developed with Marcus Miller's request. This bridge has the characteristics of vintage jazz bass with heavy mass saddle. This combination produces a rich and punchy sound. New Marcus Miller Bridge is a string-thru body bridge mechanism that allows for more tighter, accurate and stable tone.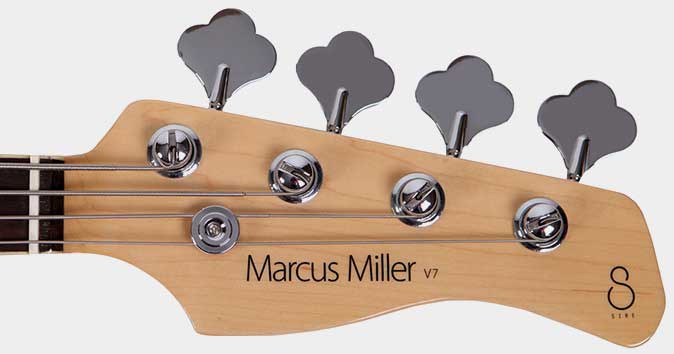 STABLE AND
ACCURATE TUNING
Tuning Gear: Sire Premium open gear Equipped with SIRE's own premium open gear head machines developed with accurate gear ratio, the head machines are very reliable in turning.
SOUND UPGRADE
Nut is one of the most important parts of the guitar that influences the performance, playability, and tone of the instrument. Depending on the quality of the material and elasticity, the nut can improve the sound or degrade the sound. Although bone nut is more costly and harder to work with, it is considered to deliver more balanced, clearer and smoother tone than plastic or eurite material.



EASE OF PLAYABILITY
1 PIECE HARDMAPLE NECK
The neck is made with one-piece hard maple.The neck is made with Canadian hard maple.
With its hardness and strength it minimizes the movement and stabilizes the neck
to maintain the original shape and condition. Also the one-piece neck minimizes
the loss of vibration and maximizes the tone sustain and maintains the tone to lasts.
 Maple fingerboard [Swamp ash body]
Maple fingerboard [Swamp ash body] delivers clear highs and sharpness in tone.The clear and clean sound of maple fretboard is desire by many players.
 Rosewood fingerboard (Alder body)
Rosewood fingerboard (Alder body) delivers Warm and round sound.The clear and clean sound of maple fretboard is desire by many players.