Tama STAR Drum Maple – SAB 5 PCS Drum Kit
STAR is the new flagship line for TAMA drums. It takes the knowledge and research we cultivated for the Starclassic series to the next level, by reexamining every detail to enhance shell resonance.
STAR Maple shell's "Solid Core Ply" is a totally new design for this series. This unique shell provides the warm, open tone of Maple, combined with the rich, hearty sound of a solid ply shell.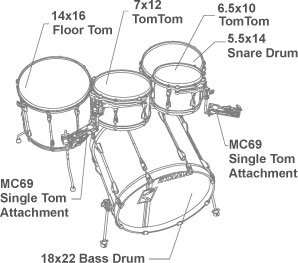 Maple Shells (STAR Drum)

5mm, 5ply Maple (1 outer ply Sycamore for MGSM, or 1 additional outer ply Bosse for ESEB/EWSB) w/ 5mm Sound Focus Ring

Although they feature one of the most popular and traditional drum shell materials, STAR Maple drums have some very unique hidden features that set them apart from the rest. The ultra-thin 5 ply, 5mm shells are comprised of a 2mm thick solid wood core ply, sandwiched between 1.5mm thick cross-laminated plies on both sides.
Traditional Maple shells generally sound bright and open. Our STAR Maple shells share those characteristics, but also add rich dynamics, body, and warmth, by utilizing a solid ply core. The concept is similar to other solid shell drums, but our unique shell construction allows the shells to be very thin by comparison. This groundbreaking design gives STAR Maples shells the bright, open tone one expects from Maple, as well as the rich sound character of solid shell drums, resulting in a truly one-of-a-kind, outstanding combination.

Bearing Edges

Vibration produced by hitting a drum transfers to the shell through the contact point between the drumhead and the shell. Therefore, the shape of the bearing edges is one of the most important factors in a drum's sound.
STAR drums feature a bearing edge shape as shown in the diagram. Its peak is rounder than TAMA's traditional bearing edge. This rounded peak provides more contact between the drumhead and shell, allowing vibration to travel from the drumhead to the shell more efficiently. Also, the peak position of the edge is 3.5mm from the shell's outer surface, which further improves contact between the drumhead and drum.

Inside Finish

In a very time consuming process, the bearing edges and insides of all STAR drum shells are meticulously hand finished with oil for a luxurious look. STAR Bubinga shells feature an oil-finished inner ply of Cordia, while STAR Maple drums feature oil-finished Maple interiors

Super Resonant Mounting System (PAT.PENDING)

To maximize the natural resonance of drums, tom toms should be mounted with minimal stress and strain on the shells and hoops. STAR drums feature our brand new mounting concept to achieve this goal, called the Super Resonant Mounting System.

This mounting system has three contact points with the drum. Two are located on the batter hoop (A & B), and one is located on the bottom hoop (C). These three points create the largest possible theoretical triangle on the drum. The two contact points on the batter hoop (A & B) support the weight of the drum vertically. The third contact point (C) supports the horizontal weight of the drum, once the angle is set. According to physics, the further this third point is located, the less support it requires when setting an angle. Therefore, by placing the third contact point as far as possible on the bottom hoop, using the support arm, we were able to dramatically reduce the stress and strain on the shell and hoop and increase natural resonance.

If you tilt your drums beyond a certain angle, which should only apply to a small minority of drummers, this mounting system operates a little differently. If a drum is titled beyond a certain angle, the bottom hoop will no longer be in contact with, or supported by, the bottom contact point (C). In that case, a different contact point (D), located on the batter hoop, comes into play. Although the triangle formed by these three points is much smaller, it does not put more strain on the batter hoop because of the angle of the drum. So the drum's natural resonance is still preserved in this case.

To maximize the resonance of drums, it's very important to prevent the vibration of the shells from transferring to the tom stands. Therefore, in addition to the engineering outlined above, we also utilize rubber at each contact point between the shell and the mounting system, which helps to isolate the shells and greatly reduces the vibration transference.

Quick-Lock Tom Brackets (PAT.PENDING)

The new "Quick-Lock" tom brackets equipped on the Super Resonant Mounting System and on STAR floor toms have some very distinctive, ground-breaking features.

First and foremost, as their name suggests, these brackets allow for quick and easy setup and breakdown. But the real unique feature of these brackets is that once the drum is positioned on a tom stand or floor tom legs, there is no need to attach and adjust separate memory locks to save the setting. By simply sliding the switch on the tom bracket, the bracket separates into two parts. When the drum is removed for breakdown, the "memory lock" portion remains on the tom stand or floor tom leg. This saves your positioning and makes the next set up quick and easy.

These Quick-Lock tom brackets have some hidden acoustic benefits as well. Following the same principle of reducing vibration transference from drums to the tom stands or floor tom legs, these tom brackets also employ rubber lining to further isolate the drums and enhance resonance.

Floor Tom Legs

In general, floor toms are positioned vertically and are struck with downward force. This means that the floor tom legs receive this downward impact directly. The tips of STAR floor tom legs feature a special, hollow, soft rubber construction which help absorb this impact in a way that emphasizes the drum's natural resonance and sustain.

Playability is also one of the key elements we considered in crafting the high-end STAR drum line. This hollow, soft rubber construction on the floor tom legs also provide a very comfortable feel and response when striking the drum.

Bass Drum Spurs (US.PAT.NO.9093051)

The bass drum spurs adopt the same concept as the floor tom legs. Since the bass drum spurs receive the horizontal impact from the pedal striking the bass drum, properly absorbing this impact is critical to the natural resonance of the bass drum shell and for a comfortable feel from the bass drum pedal. This is why we designed STAR bass drum spurs with soft, high-mass rubber feet.

There is one more important consideration. Most bass drum spurs have metal spikes at the end to prevent slippage while playing. This is an important feature for many drummers, so to achieve the same impact absorption principle while using metal spikes, STAR bass drum spurs feature a unique 2-piece construction. The spike is separated from the rest of the spur by rubber, which absorbs the impact without transferring it to the spike itself, allowing the bass drum shell to vibrate and resonate more freely.

Minimum Shell Contact

Every piece of hardware that is attached to shells affects the resonance and sound of the drums. In developing the STAR drum line, every detail was carefully considered to maximize resonance and optimize sound.

The newly designed lugs for STAR drums have a luxurious, sophisticated look, as well as an extremely low mass bridge construction for minimum shell contact. The bass drum claw hooks follow the same principle by "floating" on the surface of the bass drum hoops. STAR drums also feature an imprinted badge and small wooden air hole grommet which further reduce the weight of materials on the shell and improve resonance and sound.

Die-Cast Hoops

Hoops are a crucial element to a drum's sound and ease of tuning. STAR drums feature die-cast zinc hoops, which are manufactured by injecting molten metal into molds. Die-cast hoops are denser and more consistent in shape than triple-flanged hoops, which are manufactured by bending metal plates.

Sonically, die-cast hoops provide crisper attack, greater projection and a more focused and powerful tone. Die-cast hoops also make tuning easier and keep drums in tune longer because of their density and consistency in shape. These hoops combine with the rich, resonant STAR drum shells for a very well-balanced, full-bodied sound.

Hold Tight™ Washers (US.PAT.NO.7307204)

Hold Tight washers are designed to prevent the tension rods from loosening. They consist of a cup-shaped stainless steel washer which contains a rubber ring.
Vibration caused from striking a drum creates space between tension rods and hoops, which can cause the tension rods to loosen over time. The rubber rings on our Hold Tight washers help absorb the impact of vibration and keeps tension rods in constant contact with the hoops to prevent loosening.

Drum Heads

Tom Toms & Floor Toms: Remo® Coated Ambassador for Batter Side / Remo® Clear Ambassador for Bottom Side

Bass Drums: Remo® Coated Powerstroke 3 for Batter Side / Remo® Fiberskyn Powerstroke 3 Diplomat for Front Side

Snare Drums: Remo® Coated Ambassador for Batter Side / Remo® Snare Ambassador for Snare Side

 IRON COBRA 600 HARDWARE KIT
Components
HS80W Roadpro Snare Stand
HC83BW Roadpro Boom Cymbal Stands (2pcs)
HH605 Iron Cobra Hi-hat Stand
HP600D Iron Cobra Duo Glide Single Pedal
Features
•Iron Cobra 600 "Duo Glide" drum pedal
•28.6mm diameter base section tubing cymbal stands and snare stnad
•Boom/Straight convertible tilter
•Quick-Set Tilter cymbal stands and snare stnad
•Quick-Set Cymbal mate