Tama Starclassic Performer BB Finishes PR62HZS VGR 6 Pcs Drum Kit (See Through & Solid Finishes Lacquer )
For more than 30 years, the distinctive, traditional sound of birch has made it the go-to choice for numerous pro drummers. Now, TAMA takes birch in an entirely new direction. Proportionately melding inner plies of bubinga with the classic birch exterior, TAMA has created a blended shell that combines the focused attack of birch, with the enhanced low-end of bubinga—delivering totally a new sound—both dynamic and versatile.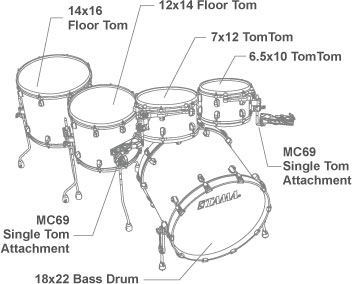 Features
Shells(Bubinga + Birch)
TT/FT:4ply Birch + 3 inner plies Bubinga, 6mm
BD:5ply Birch + 3 inner plies Bubinga, 8mm
By using bubinga wood for the inner layer of the birch shell, TAMA has created a new chapter in the Starclassic series.
Hybrid tone, which exhibits the focused attack of birch paired with the enhanced lows of bubinga.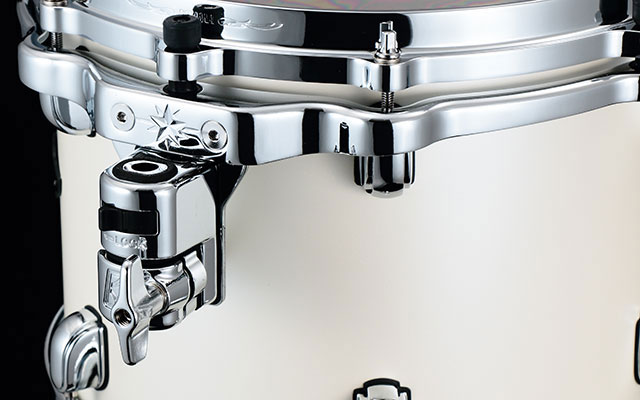 Star-Cast Mounting System(US. PAT.NO.5454288)
The Star-Cast Mounting System has always provided maximum resonance and stability for TAMA's pro-drums. A streamlined design makes it easier to position toms closer together for greater ease and comfort than ever before. In addition, a switch to aluminum provides lighter weight and even truer tonal vibration. Last but not least, Star-Cast is now plated to match your drum's shell hardware!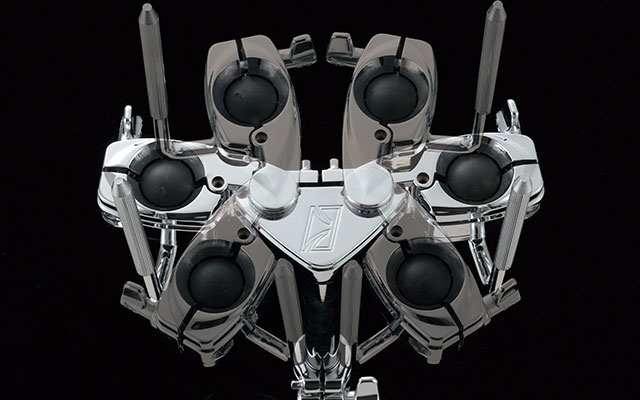 Swivel-Wing Tom Holder
Starclassic Perfomer B/B's tom holder expands on its setup flexibility with this new "Swivel-Wing Tom Holder" design.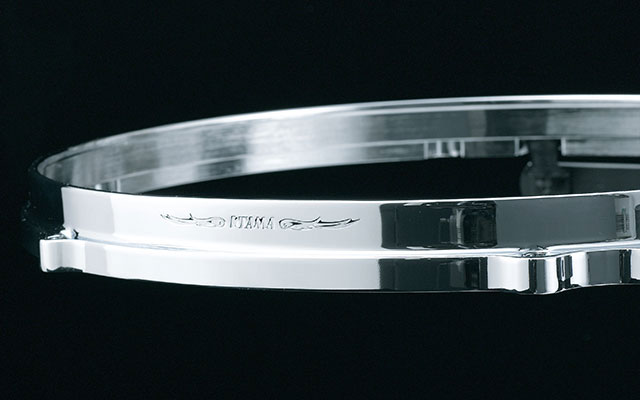 Die-Cast Hoops
Hoops not only affect drum tuning; they also affect drum sound. That's why the choice of hoops was so important to the designers of TAMA's professional drum lines. For our Starclassic Series, we choose zinc die-cast hoops, which are manufactured by injecting molten metal into molds. Die-cast hoops have more density and are more consistent in shape than triple flanged hoops, which are manufactured by bending metal plates. Die-cast hoops make tuning more consistent and easier to achieve because the tension bolts always contact the hoop properly. Drums fitted with die-cast hoops also offer crisper attack, clear and resonant highs and much more powerful rim shots.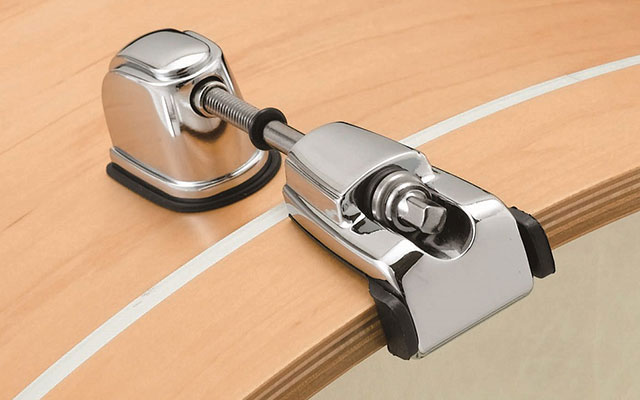 Claw Hooks(Starclassic Performer B/B)
Starclassic Performer B/B's claw hooks feature rubber spacers that help protect wood hoops from damage. The hooks and hoops work as one unit and won't separate or rattle, even on loose tunings.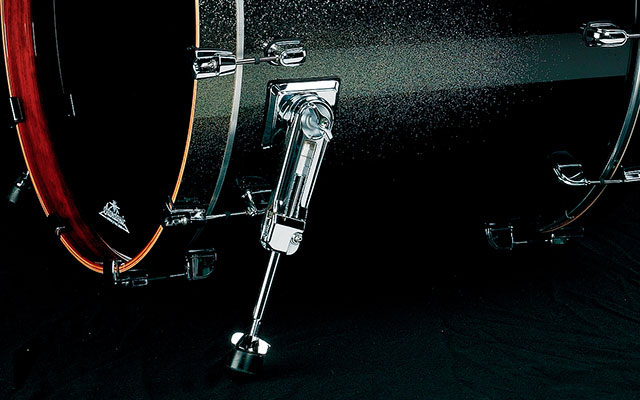 Bass Drum Spur Bracket(Starclassic Performer B/B)
TAMA's MSB30 die-cast bracket holds the spur bracket securely, thanks to the same powerful hinge mechanism used on the MTB30 mounting bracket.Unique memory markers found on the folding spur bracket help simplify set up.
Air Cushioned Floor Tom Legs
Starclassic's Air Pocket rubber feet feature a special air chamber, that eliminates the transfer of vibrations to the floor (which chokes sustain and sound) and absorbs shock for better playing.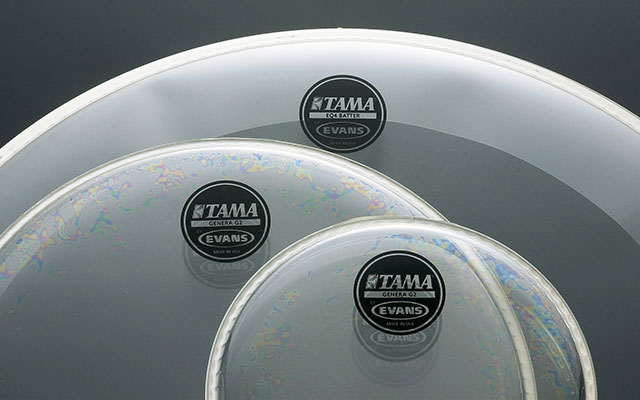 Evans Heads
Starclassic Performer B/B drums feature Evans G2 2-ply clear batter heads.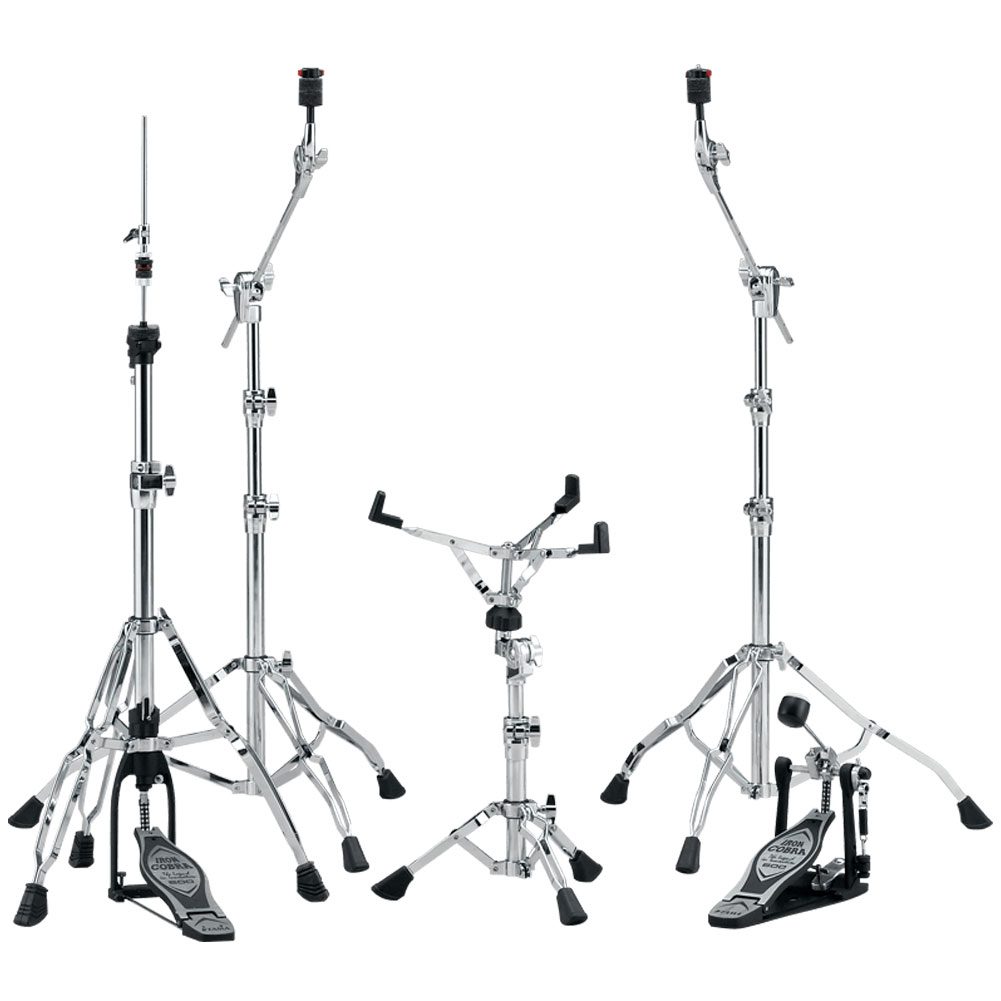 IRON COBRA 600 HARDWARE KIT
Components
HS80W Roadpro Snare Stand
HC83BW Roadpro Boom Cymbal Stands (2pcs)
HH605 Iron Cobra Hi-hat Stand
HP600D Iron Cobra Duo Glide Single Pedal
Features
•Iron Cobra 600 "Duo Glide" drum pedal
•28.6mm diameter base section tubing cymbal stands and snare stnad
•Boom/Straight convertible tilter
•Quick-Set Tilter cymbal stands and snare stnad
•Quick-Set Cymbal mate