Tama Starclassic Performer MBS42RS-SKA Maple-Birch 5 Pcs 22″ Drum Shell Pack Lacquer Finish Sky Blue Aurora MBS42S-SKA + MBSS55-SKA
Evolution of Sound, Undeniable Expression.
Tama's Starclassic series has been constantly evolving since 1994 to provide discerning drummers with acoustic variation, rock-solid professional performance and sensible value. Starclassic shell design has included drums with various wood types, including pure birch, pure maple, and "hybrid" bubinga/birch and walnut/birch. Tama's evolution into the hybrid shell has been widely appreciated by drummers due to the complex and expressive sonic properties these hybrid shells produce. Tama's newest Starclassic Performer series centers on the newest Tama hybrid shell – maple/birch – to offer drummers a complex, powerful and expressive sound supported by rugged Starclassic performance. Tama's Starclassic Performer series evolves the Starclassic legacy to provide a unique Tama sonic component that redefines the art of professional drum set sound and expression at an undeniable value.
Tama's Starclassic Performer series further evolves the Starclassic legacy. Designed to provide a differentiated Tama sound with professional features, Starclassic Performer offers uncommon value for an undeniable drum set experience.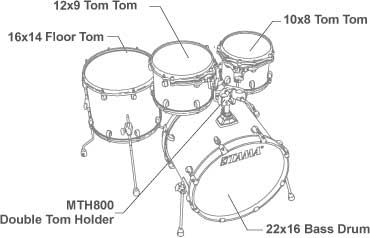 MBS42S(w/ Chrome Hardware) : Lacquer Finishes
Model No. Description Q'ty
MBSB22DM 22″x16″ Bass Drum 1
MBST10A 10″x8″ Tom Tom 1
MBST12A 12″x9″ Tom Tom 1
MBSF16A 16″x14″ Floor Tom 1
MTH800 Double Tom Holder 1
Features
MTH800 Double Tom Holder
TAMA's MTH800 Double tom holder features 10.5mm arms and ball/socket design for multi positioning and locked-in stability. Additional positioning is achieved through TAMA's unique single Swivel Wing, which rotates to provide exact ergonomic placement.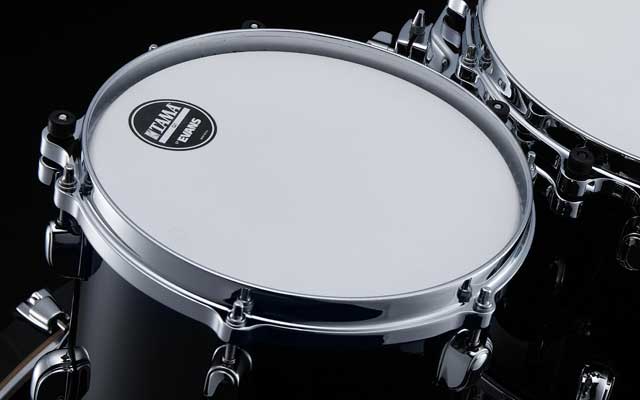 EVANS® Heads
EVANSR G1 coated batter and TAMA clear single-ply Power Craft II resonant heads are equipped on the toms. Bass drums include EVANSR clear EQ4 batter heads, Tama resonant head with muffle ring. Snare drums are fitted with EVANSR G1 coated batter heads and EVANSR 300 snare-side head.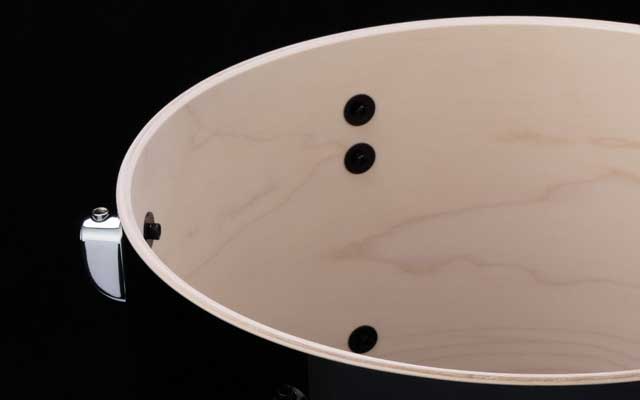 Shells (Maple/Birch)
TT/FT/SD: 6mm, 4ply Birch + 2 inner ply Maple
BD: 7mm, 5ply Birch + 2 inner ply Maple
The combination of maple/birch projects with the warmth of maple and the clarity of birch.?Tones are clean, articulate and very well balanced.?The voice around the kit blends clearly, the die-cast hoops produce clear, punchy, full tones.
Star-Cast Mounting System
The Star-Cast Mounting System has always provided maximum resonance and stability for TAMA's pro-drums. A streamlined design makes it easier to position toms closer together for greater ease and comfort.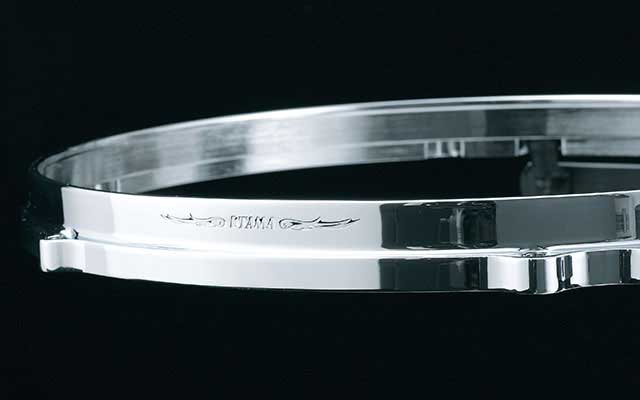 Die-Cast Hoops
Hoops not only affect drum tuning; they also affect drum sound. That's why the choice of hoops was so important to the designers of TAMA's professional drum lines. We choose zinc die-cast hoops, which are manufactured by injecting molten metal into molds. Die-cast hoops have more density and are more consistent in shape than triple flanged hoops, which are manufactured by bending metal plates. Die-cast hoops make tuning more consistent and easier to achieve because the tension bolts always contact the hoop properly. Drums fitted with die-cast hoops also offer crisper attack, clear and resonant highs and much more powerful rim shots.