Tama Starclassic Walnut-Birch WB42RZS 5 Pcs 22″ Drum Shell Pack Lacquer Finish Molten Blue Ice Fade WBS42S-MBI +WBSS55-MBI
The evolution of Starclassic from maple, birch, bubinga, birch/bubinga continues, and now – after intense analysis, rigorous research, development and product testing – we have arrived at the latest Starclassic modern development, Starclassic Walnut/Birch.We discovered the perfect ratio of walnut to birch that produced a superior quality of low-to-mid frequency warmth that perfectly complemented the clear attack and higher frequency projection of birch. The sound is familiar, but distinctively different from Tama sounds of the past.
The Starclassic series continues to be a representation of our collective drum-making passion, wisdom and pursuit to offer refined and differentiated sounds. Starclassic Walnut/Birch defines our commitment to evolve our drum sounds and inspire the contemporary drummer.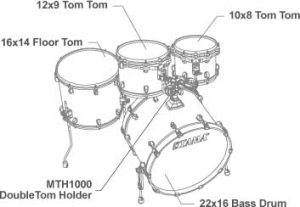 WBS42S (Lacquer Finishes)
WBR42S (Duracover Wrap Finishes)
| | |
| --- | --- |
| Description | Q'ty |
| 22″x16″ Bass Drum | 1 |
| 10″x8″ Tom Tom | 1 |
| 12″x9″ Tom Tom | 1 |
| 16″x14″ Floor Tom | 1 |
| MTH1000 Double Tom Holder | 1 |
Features
Bearing Edges
The shape of the edge is one of the most important factors which affect drum sound. Because the drumheads provide the important source of vibration, the shape of the contact point of the head and shell determines and defines the sound. This is why TAMA has worked so extensively on achieving the most functional shape for the drum head and edge.
Picture shows a sectional view of the drum's bearing edge. As shown in Part A, the angle of the top edge is set 2.5mm inside from the outer surface of the shell. The edge is cut to a round collar so as to follow the natural shape of the drumhead (B). This design, which creates a better fit between the drumhead and bearing edge, maximizes the resonance of drum.This bearing edge shape is part of our TAMA tradition and is crucial in providing TAMA's unique drum sound.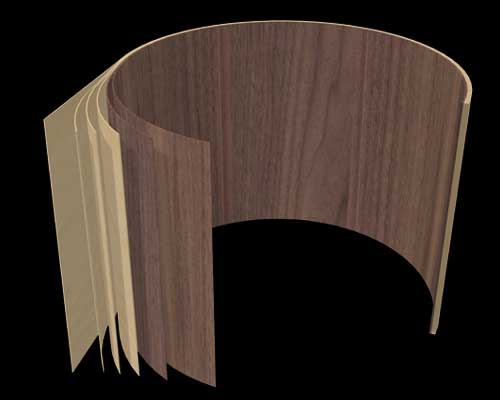 Shells (Walnut/Birch)
TT/FT/SD: 6mm, 4ply Birch + 2 inner ply American Black Walnut
BD: 8mm, 5ply Birch + 2 inner ply American Black Walnut
The hybrid shell exhibits the focused attack of birch paired with the firm and warm of Walnut. This sound is not only punchy, but sweet and mellow. When you beat the drums once, excellent tone is surround you.
The Walnut/Birch hybrid shell will make your drum life state of the art.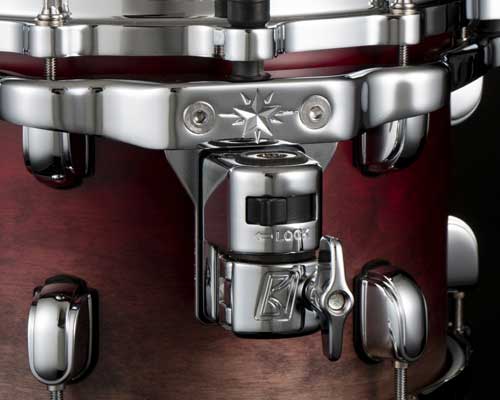 Quick-Lock Tom Brackets (US.PAT.NO.9269337)
The "Quick-Lock" tom brackets equipped on the Star-Cast Mounting System and on Starclassic floor toms have some very distinctive, ground-breaking features.
First and foremost, as their name suggests, these brackets allow for quick and easy setup and breakdown. But the real unique feature of these brackets is that once the drum is positioned on a tom stand or floor tom legs, there is no need to attach and adjust separate memory locks to save the setting. By simply sliding the switch on the tom bracket, the bracket separates into two parts. When the drum is removed for breakdown, the "memory lock" portion remains on the tom stand or floor tom leg. This saves your positioning and makes the next set up quick and easy.
These Quick-Lock tom brackets have some hidden acoustic benefits as well. Following the same principle of reducing vibration transference from drums to the tom stands or floor tom legs, these tom brackets also employ rubber lining to further isolate the drums and enhance resonance.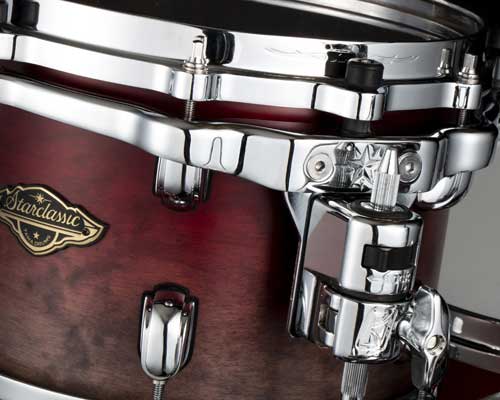 Star-Cast Mounting System
The Star-Cast Mounting System has always provided maximum resonance and stability for TAMA's pro-drums. A streamlined design makes it easier to position toms closer together for greater ease and comfort than ever before. In addition, a switch to aluminum provides lighter weight and even truer tonal vibration. Last but not least, Star-Cast is now plated to match your drum's shell hardware!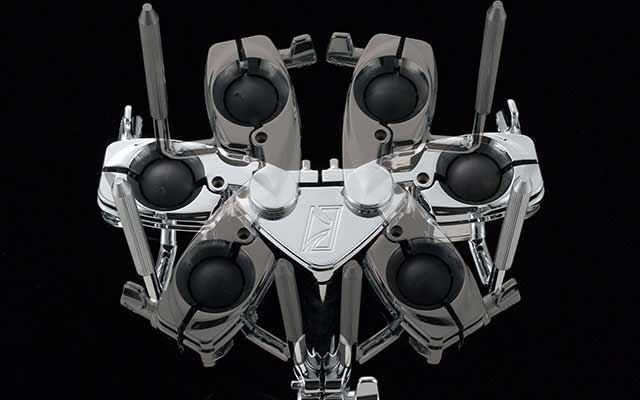 Swivel-Wing Tom Holder (US.PAT.NO.9087498)
This tom holder features our omni-ball system allowing for unparalleled angle adjustment of the toms. In addition, each ball can move around an arc backward and forward by 100mm, providing even greater positioning flexibility.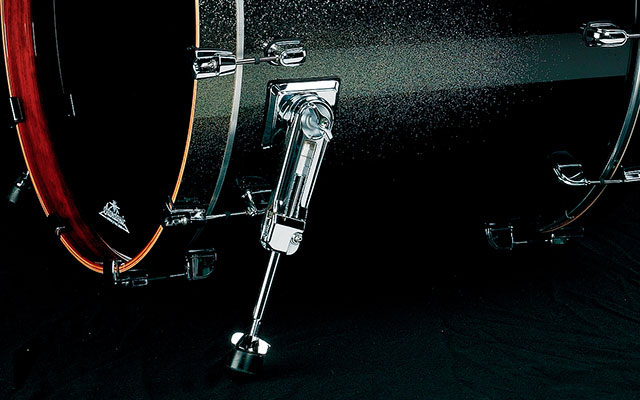 Bass Drum Spur Bracket (Starclassic)
TAMA's MSB30 die-cast bracket holds the spur bracket securely, thanks to the same powerful hinge mechanism used on the MTB30 mounting bracket.Unique memory markers found on the folding spur bracket help simplify set up.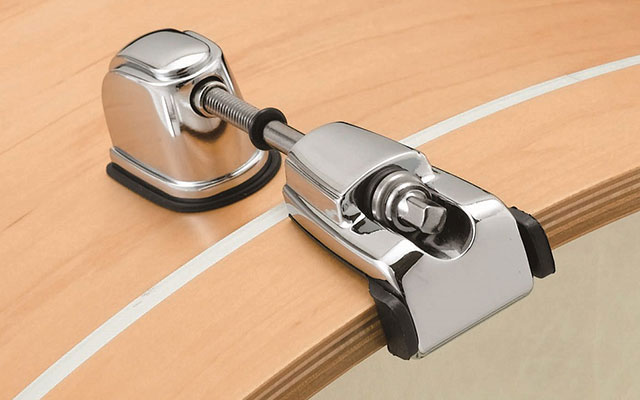 Claw Hooks
Starclassic's claw hooks feature rubber spacers that help protect wood hoops from damage. The hooks and hoops work as one unit and won't separate or rattle, even on loose tunings.
Air Cushioned Floor Tom Legs
Starclassic's Air Pocket™ rubber feet feature a special air chamber, that eliminates the transfer of vibrations to the floor (which chokes sustain and sound) and absorbs shock for better playing.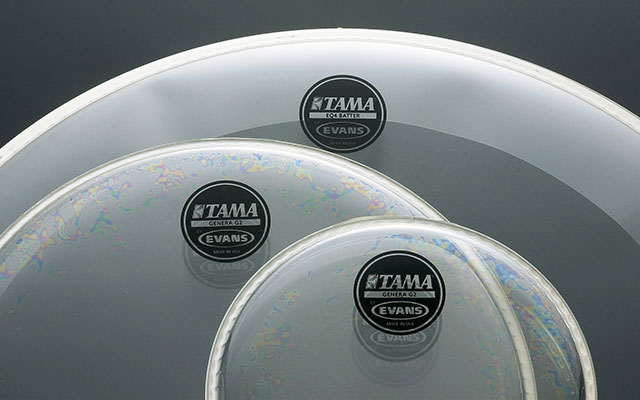 EVANS® Heads
Evans® heads are featured on all Starclassic drums (except bass drum front heads). On the rack and floor toms, Genera G2 2-ply clear batter heads and TAMA Power Craft II 1-ply clear bottom heads provide both durability and solid sound. Starclassic bass drums are fitted with Genera EQ4 clear batter heads.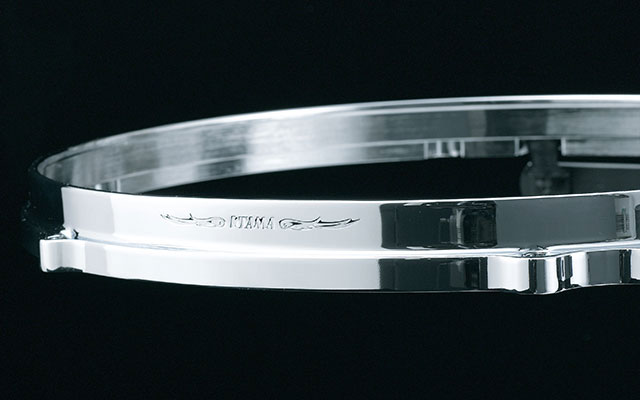 Die-Cast Hoops
Hoops not only affect drum tuning; they also affect drum sound. That's why the choice of hoops was so important to the designers of TAMA's professional drum lines. We choose zinc die-cast hoops, which are manufactured by injecting molten metal into molds. Die-cast hoops have more density and are more consistent in shape than triple flanged hoops, which are manufactured by bending metal plates. Die-cast hoops make tuning more consistent and easier to achieve because the tension bolts always contact the hoop properly. Drums fitted with die-cast hoops also offer crisper attack, clear and resonant highs and much more powerful rim shots.