Ibanez RG2820ZD TFB RG Prestige Electric Guitar 6 Strings with Hardshell
The RG is the most recognizable and distinctive guitar in the Ibanez line. Three decades of metal have forged this high-performance machine, honing it for both speed and strength. Whether you favor a hardtail (fixed) bridge or our industry-leading locking tremolo system, the RG is a precision instrument.
RG RG2820ZD Prestige Made In Japan
Colors
neck type
5pc Wizard HP Maple / Walnut neck
body
Alder body
fret
Medium frets
bridge
Edge-Zero bridge w/ZPS3
neck pu
Seymour Duncan® JAZZ Model™ SH-2n (H) neck pu
bridge pu
Seymour Duncan® Custom 5™ TB-14 (H) bridge pu
hardware color
Chrome
Neck Dimension


| | |
| --- | --- |
| Scale | 648mm/25.5″ |
| a : Width at Nut | 43mm |
| b : Width at Last Fret | 58mm |
| c: Thickness at 1st | 18mm |
| d : Thickness at 12th | 20mm |
| Radius | 430mmR |
Switching System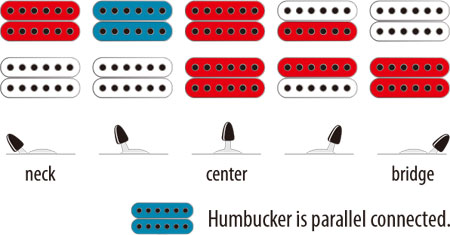 Know More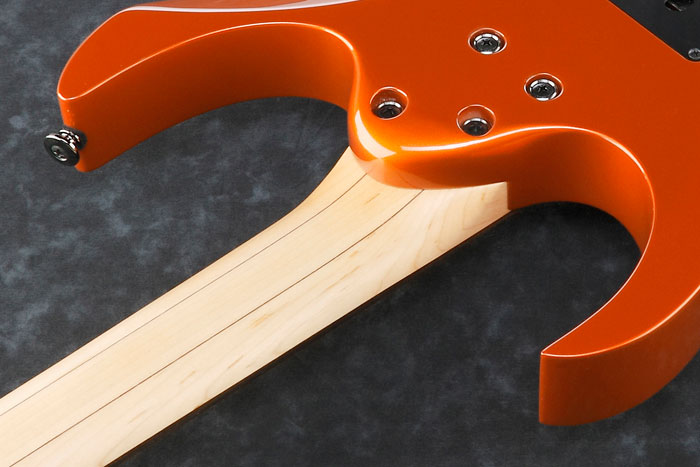 Refined fast Prestige Wizard neck offers better grip, feel and tone – 18mm width at 1st fret and 20mm at the 12th.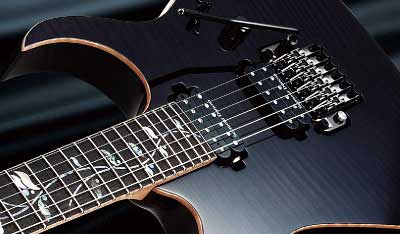 Comes with top quality Seymour Duncan® pickups. Jazz™ model features classic moderate output with sweet tone. Custom 5™ model also features moderate output with more bite. This pickup conbination offers tonal versatility.
The Edge-Zero has a sharp knife-edge for extremely accurate tremolo playing. This tremolo also uses Ibanez innovations to keep string action constant and the bridge surface smooth. The specially designed arm socket prevents unnecessary wobble from the arm while providing full control over the arms torque.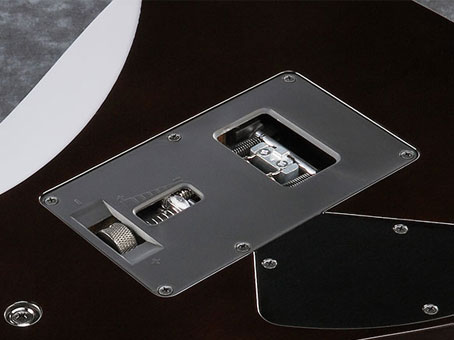 The ZPS3 is the next stage of zero point systems. Made of lightweight Duralumin, the addition of two outer springs makes the guitar easier to tune and provides much greater tuning stability. In fact, the other strings will stay in tune even if you break a string. If you prefer a full floating tremolo setup, simply remove the stop bar.
The Barless Top-Lok eliminates the need for a retainer bar to maintain string tension. Through its simple design, it holds the correct angle for the strings without one. The metal-injection molding process means that all the edges remain smooth, so you wont hurt your hands.
Designed for precise control of knobs with non-slip functionality, while nice and classic look.