Ibanez RG8570Z AGT Prestige J Custom 6 String Electric Guitar
By fabricating in mind the appearance simple and sturdy playability and suitable for music speedy, RG to be described as even the "pronoun" the midst of guitar lineup of Ibanez is, to the central presence of the metal scene It is a high-performance machine that growth. It has a specification for a number for a wide range of music genres as well as metal music of course, is a guitar battle you can fight on stage at any time.
RG RG8570Z J Custom Made in Japan
Which is often described as "pronoun" of Ibanez RG. Model it is that in the mind of the metal music, was produced combines with the corresponding and Spartan design to speedy or technical play. Birth from now after more than 25 years, the metal is, of course, as a high-performance guitar that can respond to a wide range of music beyond the genre, has continued to defunct evolution that ceased.
BX – Black Onyx

AGT – Almandite Garnet

RS – Red Spinel

BBE – Bright Brown Rutile

RBS – Royal Blue Sapphire
| | |
| --- | --- |
| neck type | RG j.custom Super Wizard 5pc Maple / Walnut neck w / KTS ™ TITANIUM rods |
| body | AAA Flamed Maple (4mm) top / African Mahogany (40mm) body |
| fretboard | Bound Selected Rosewood fretboard w / Tree of Life inlay |
| fret | Jumbo frets w / Prestige fret edge treatment |
| bridge | Edge-Zero tremolo bridge w / ZPS3 |
| neck pickup | DiMarzio® Air Norton ™ (H) neck pickup (Passive / Alnico) |
| middle pickup | DiMarzio® True Velvet ™ (S) middle pickup (Passive / Alnico) |
| bridge pickup | DiMarzio® The Tone Zone® (H) bridge pickup (Passive / Alnico) |
| factory tuning | 1E, 2B, 3G, 4D, 5A, 6E |
| string gauge | .009 / .011 / .016 / .024 / .032 / .042 |
| hardware color | Cosmo black |
NECK DIMENSIONS
| | |
| --- | --- |
| Scale | 648mm / 25.5 " |
| a: Width | 43mm @ 0F |
| b: Width | 58mm @ 24F |
| c: Thickness | 17mm @ 1F |
| d: Thickness | 19mm @ 12F |
| Radius | 430mmR |
SWITCHING SYSTEM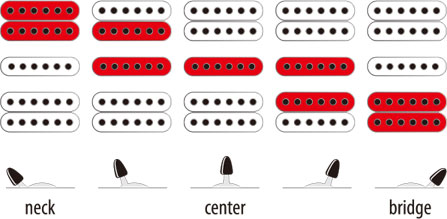 CONTROLS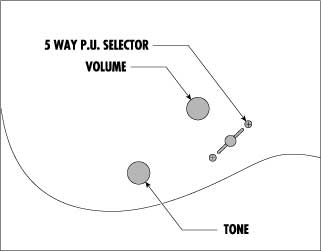 FEATURES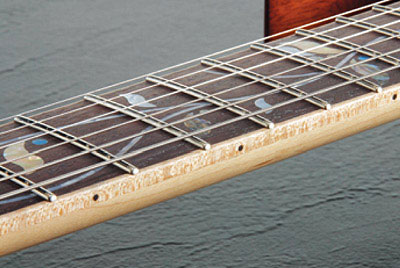 Neck Shape
Adopted KTS ™ Titanium neck reinforcement, j.custom dedicated neck which realized a solid strength and bright sustain.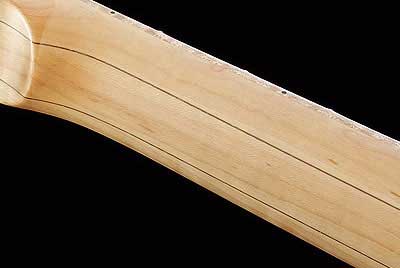 Velvetouch finish & spherical custom treatments
It fits in the hand nicely as a guitar that has been incorporated to play like many years, of the neck back "Velvetouch" finish, craftsmen one by one carefully finish, fret edge to achieve high performance of "spherical custom treatments" .
DiMarzio® Pickups
In addition to the rich bass, power, great sound DiMarzio® pickup features combine the treble with a stretch.
Neck position in the clear and warm sound features of Air Norton®, DiMarzio® the middle position is less sound with bright and noise features True Velvet ™, the bridge position in a well-balanced from treble to bass equipped with the Tone Zone® features output, sound full of power feeling.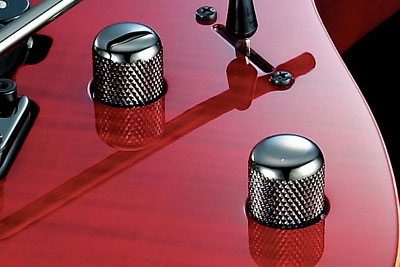 Easy Access Control Knobs
Dropping processing of the control knob to bring the improvement of easy access and playability.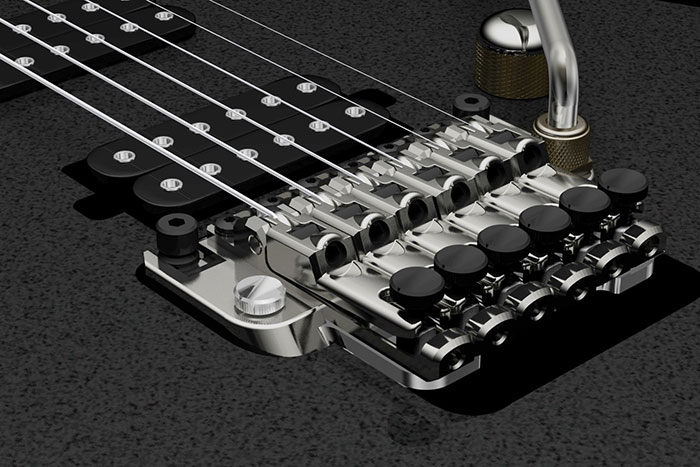 Edge- Zero Tremolo Bridge
Knife-edge fulcrum structure, tremolo bridge Ibanez tradition with features such as plug-in arm "EDGE". While inheriting the concept, ease and sense of stability of dramatically tuning incorporates a zero-point system has been improved "Edge-Zero" tremolo bridge.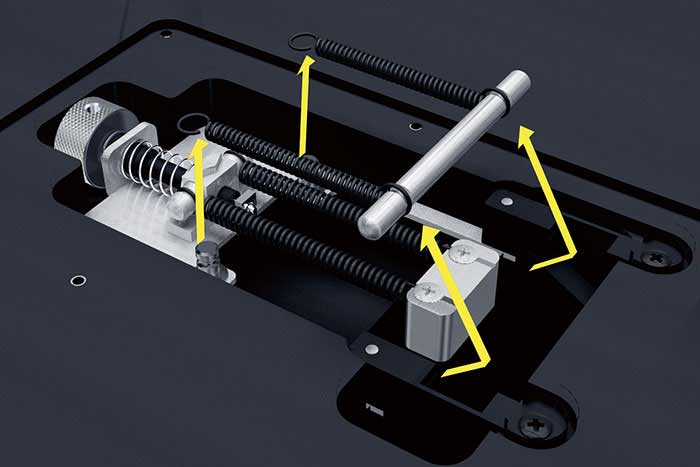 Zero Point System (ZPS3, ZPS3Fe, ZPS2)
In addition to the usual spring, zero-point system with two Adishonaru spring and stop rod.
Always the center position of the tremolo unit has a function to try to keep to the (Zero Point), achieve a stable environment which is not a little effect on the change of the chord of tension. Chord exchange / course of the thing at the time of tuning, exert a great deal of its effects, such as when the string is cut off during play.
(Stop rod and sub-spring can be easily removable, it is also possible to use as a normal floating tremolo.)
Spring Mute
Tremolo bridge on the structure, the resonance of the tension spring was a headache. Fitted with a rubber washer in order to prevent such a resonance as much as possible. Thereby to achieve a clear sound.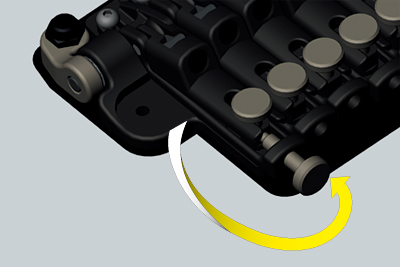 Intnation Adjustment Tool
Equipped with intonation Adjust screw of the built-in type to the bridge plate. Insert the screw in the saddle rear, easily octave adjustment can be done by turning the screw Loosen the saddle lock bolt.
Toolless Spring Tension Adjust
Without having to use a tool such as a driver, capable of changing the tension of the tremolo springs simply by turning by hand wheel.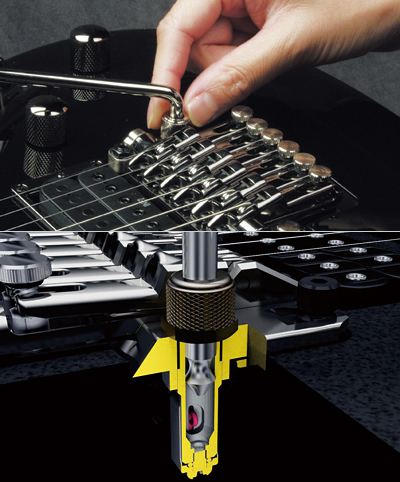 Snap and Hold Arm Socket
By rotating the torque cap of the arm mounting portion, easily tremolo arm torque adjustable.
Stud Lock Screws
Equipped with a stud-lock function to more firmly secure the stud and the body.
Improved stability of tuning with the string vibration efficiently transfer.