Ibanez PIA3761 XB Steve Vai Signature series Prestige Electric Guitar with Hardcase
The Ibanez PIA (meaning Paradise In Art) is the result of another fruitful collaboration between Ibanez and Steve Vai.
It's immediately apparent that this ornate instrument is an evolved version of the Vai's familiar JEM series of instruments. For the PIA, Ibanez have tweaked a number of features to elevate it to new creative heights.The solid Alder body features a renewed take on Vai's signature handhold feature, while the Rosewood fretboard boasts a beautiful multi-coloured blossom inlay.
Color
XB : Onyx Black
SLW : Stallion White
SDG : Sun Dew Gold
SPEC
        neck type PIA 5 pc Maple/Walnut
        top/back/body Alder body
        fretboard Rosewood fretboard PIA Blossom inlay
        fret Jumbo Stainless Steel frets Prestige fret edge treatment
        number of frets 24
        bridge Edge tremolo bridge
        string space 10.8mm
        neck pickup DiMarzio UtoPIA (H) neck pickup Passive/Ceramic
        middle pickup DiMarzio UtoPIA (S) middle pickup Passive/Alnico
        bridge pickup DiMarzio UtoPIA (H) bridge pickup Passive/Ceramic
        factory tuning 1E,2B,3G,4D,5A,6E
        strings D'Addario EXL120
        string gauge .009/.011/.016/.024/.032/.042
        nut Locking nut
        hardware color Gold
NECK DIMENSIONS
            Scale : 648mm/25.5″
            a : Width 43mm at NUT
            b : Width 58mm at 24F
            c : Thickness 18mm at 1F
            d : Thickness 20mm at 12F
            Radius : 430mmR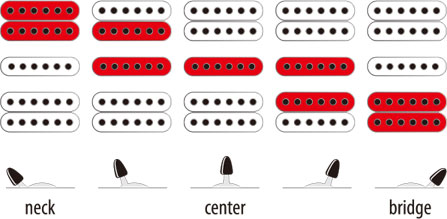 SWITCHING SYSTEM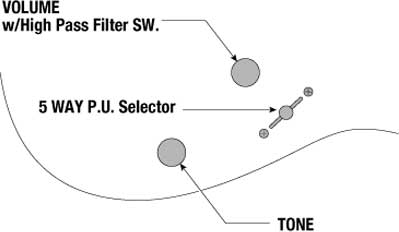 CONTROLS
OTHERS
        Hardshell case included
        Gotoh machine heads
        Luminlay side dots
        Scalloped Fingerboard on 21-24 Frets
        Ultralite Tremolo Arm included
Features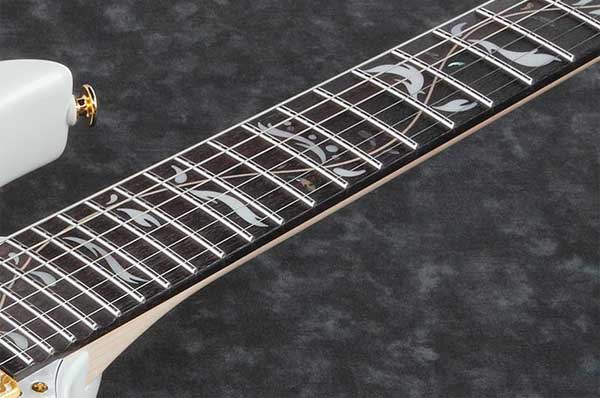 PIA Blossom inlay
The newly designed PIA Blossom inlay is gorgeous, prominent, and elegantly imparts Steve Vai's trademark style and artistic vision.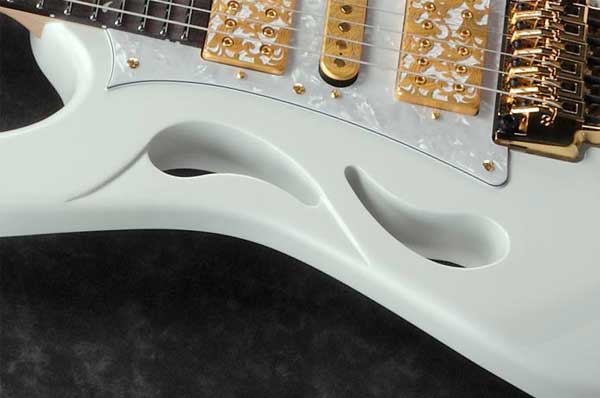 Petal Grip
Exclusively designed for the PIA, the new Petal Grip offers a balanced, contemporary design aesthetic. It's also meant to symbolize unity, companionship, and interpersonal bonds.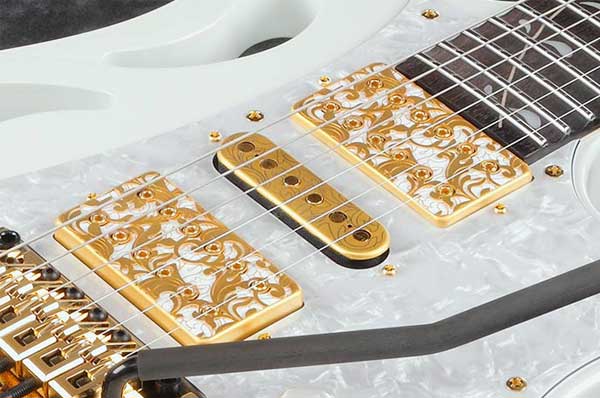 DiMarzio UtoPIA pickups
Based on Steve's latest tonal preferences, DiMarzio UtoPIA pickups are voiced for smoother highs, more scooped mids, and more pronounced low-end. The pickups incorporate beautiful aesthetics and design elements meant to complement the cosmetic features of the guitar.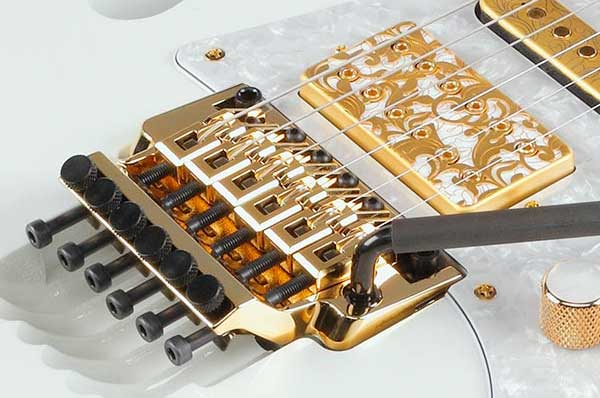 Edge Tremolo
The Edge tremolo bridge and groundbreaking Lion's Claw tremolo cavity allow for rapidly increasing and lowering pitch with dramatic range and an intense voice.


Magnetic Tremolo Cavity Plate
The tremolo cavity plate is held in place magnetically, allowing for quick removal and reinstallation when changing strings or adjusting the tremolo system.